The Castagnari accordions




|
Recanati
| The Castagnari accordions |
The Castagnari catalogue
|
How to contact Castagnari
Castagnari's official website
As an accordion lover, I have been to Recanati several times these last few years, and I felt like sharing part of what I had seen there on a few pages. Please don't ask me how much such accordion costs, or when it will be available: I take no part in the sale of Castagnari accordions, and you'll have to contact the workshop directly. I just have a passion for beautiful accordions...
Take a walk...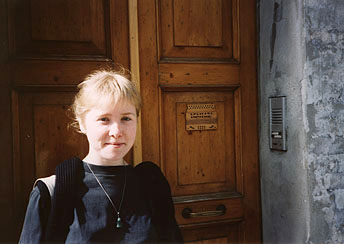 You're taking a walk in Recanati... Here you come to via del Risorgimento, in the part of Recanati known as Rione Castelnuovo. At the 77, a wooden plate on the door attracts your eye : No doubt, it's here...
On the wall, two bells, one above the other. Let's ring the one reading "Fabbrica" : this is the factory where the few hundreds of Castagnari accordions born each year come from.
Probably Sandro, Massimo or Corrado will open the door to you. All three belong to the third generation of Castagnari accordions, as their grandfather founded the factory back in 1914. (And what about the fourth generation ? They're currently wearing their pants' bottoms on the benches of the regions' schools, and no doubt it well be up to the task when the time comes...).
Right: This visitor's just found her way ! I a few minutes, she'll receive her present...
Sandro e Massimo
Thus Sandro and Massimo Castagnari are cousins, and of the family the best known to French people, since they've been taking part every year to the Rencontres de Saint Chartier on the booth of the Maison de l'Accordéon, French distributor of their instruments:

Massimo taken by surprise in the middle of a conversation at Saint Chartier '97...
Sandro is examining pictures in front of a sample of his babies at Saint Chartier '97. Note the bandonion on the top left shelf.
Massimo and Sandro at Saint Chartier 98
They'll welcome you to the office: phone, telefax, typewriter, instruments showcase. The walls are covered with pictures of accordions and accordion players from all over the world. Take a look at them: You'll certainly recognise familiar faces... :-) Once you're introduced, they'll take you for a visit of the fabbrica. It's a bit like Ali Baba's cavern : A lot of workshops, warehouses around a small central garden where the dog keeps a watchful eye upon the family...
In one of these rooms the accordion you ordered may be already waiting for you...
Catalogue and information
You can take a look at the accordions catalogue, if you haven't done so already. For all information, orders, ... the best is to contact the factory directly. They'll answer you better than I can, and even in English if so you prefer. :-)
Castagnari's official website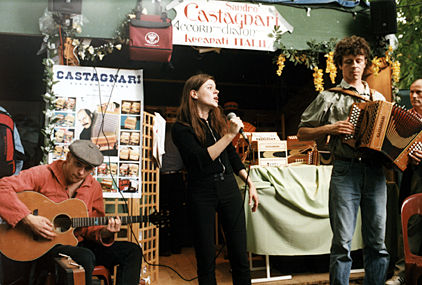 Ronan Robert and his group in front of the Castagnari booth,
Saint-Chartier 1998
(credits: Ophélie BARD)
Where to see Castagnaris in France?
At the Maison de l'Accordéon, in Rennes
In Saint-Chartier (Indre, week-end of July 14th)
Many many thanks to Mauro for the Italian translation of these pages !
| | |
| --- | --- |
| Last updated on 05/05/1999 and 20/10/2007 | Languages: |